A caring community
Asheville, North Carolina is known for many awesome things: our beautiful mountains, amazing breweries, and world class restaurants.  But there is another great thing about our town: Asheville's nonprofit organizations.
We have an incredibly tight-knit community that is reflected in many Asheville nonprofits.
The people that help run some of these organizations are as selfless and genuine as you will find.  When coupled with our community's willingness to donate and support a good cause, we really have a dynamic town that makes a tremendous impact.
As a local Asheville business, we at The Juengel Agency are afforded many opportunities to dive in and support some these great Asheville nonprofits.  Through donations, volunteering, and using our platforms to share information about them.
We wanted to show you three of our favorite Asheville nonprofits.
The Homeward Bound REACH Fund
The REACH Fund supports Homeward Bound here in Western North Carolina.  REACH is short for Real Estate Agents Combating Homelessness.
Homeward Bound has one goal: to end chronic homelessness in Western NC.
Homeward Bound began in 1988 as Hospitality House, opening its doors to serve the growing homeless population through long-term emergency shelter.

We're the community leader in best practices to end homelessness, and have been using the Housing First model since 2006. The Housing First model has been proven to be the most effective, cost-efficient, sustainable, and humane intervention to homelessness.

Essentially this means people experiencing homelessness are housed as quickly as possible and offered case management services to provide support and resources to help maintain housing stability.
Needless to say, the work they do is not only critical to the lives they are helping but also to the community as a whole.
The numbers are staggering:
20: Number of deaths each year from homelessness-related health causes
562: Point-in-Time count of those living on the street, in shelters, or in transitional housing in Asheville
$23,000: Health and social service-related costs of one homeless person per year in Asheville
2nd fastest gentrifying city in America
A recent article in the Huffington Post did a great job documenting how serious the problem is.
With those figures, the problem is clear.  That's where an Asheville nonprofit like the REACH Fund is trying to help.
Realtors, mortgage brokers and insurance agents are all directly tied into the real estate industry here in Asheville.  So it's a natural fit to support an organization who helps find homes for those who would otherwise be homeless.
The REACH Fund has a game plan and a goal to help.  Very simply, to ask realtors and real estate professionals to share at least 1% of their commissions.  Their current goal is to raise $100,000 between now and July 1, 2018.
Last year there was over $1 Billion in real estate sales closed.  If every agent had donated 1% that would have amounted to $700,000.  To break the math on that down a little further:
A $300,000 home sale results in about a $9,000 or 3% commission for a single real estate agent.  1% of that amounts to $90.
If you are interested in learning more or donating you can visit REACH's webpage.
Asheville Sister Cities
The Asheville Sister Cities nonprofit is a great organization that reaches out to communities across the world.  They are the local WNC chapter of the international program Sister Cities International.
Their mission is to promote peace and prosperity across the globe through the sharing of cultural, humanitarian, education, economic, and developmental efforts.
Currently, Asheville has 7 sister cities:
Within this Asheville nonprofit, there are committees who meet to work with their counterparts in the other cities to identify possible needs, programs and projects for each city.
For example, most recently the committees for Valladolid & San Cristóbal, Mexico delivered an entire container full of wheel chairs to both cities for those in need.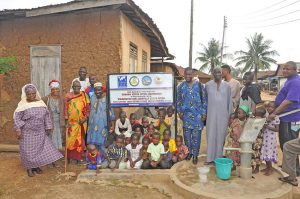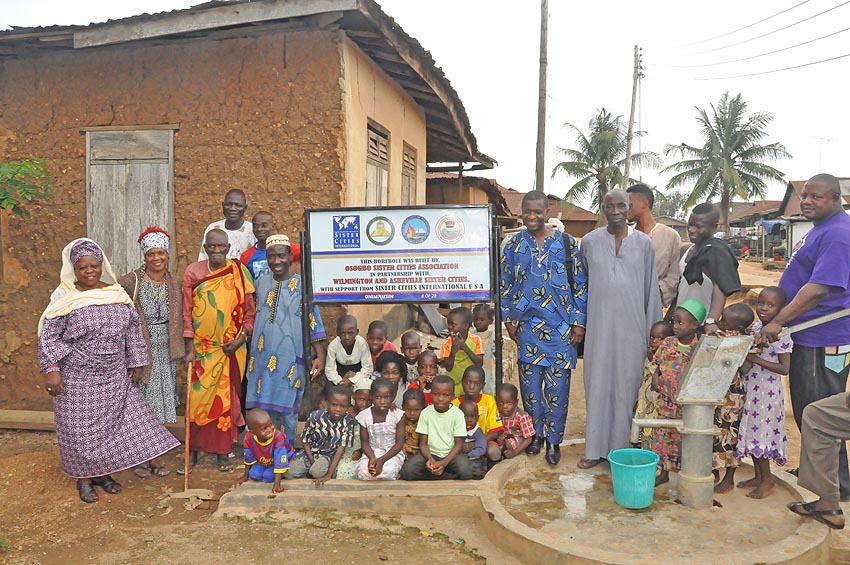 A few years back they also took part in a joint project with Wilmington Sister Cities, that resulted in the digging of 29 new wells in Osogbo, Nigeria.  Those wells now provide clean water to 7 different communities including 3 school.
Another delegation that visited San Cristóbal de las Casas, Mexico was fulfilling a project to deliver medical supplies to local midwives in the town.
Asheville Sister Cities is a fantastic nonprofit right here in town that is making big impacts around the world.
If you would like to learn more about joining or donating to one of their many ongoing projects you can visit them here, Asheville Sister Cities.
My Daddy Taught Me That
My Daddy Taught Me That  (MDTMT) is probably one of finest examples of a great Asheville nonprofit.
Their newest documentary has just been released and you can watch it just above here.
Founded in 2010, MDTMT is facilitated by Keynon Lake, a social worker with Buncombe County Health and Human Services.  He created the program with one goal in mind: to be a mentor and strong role model to young males who might not otherwise have that positive force in their lives.
The program offers guidance and positive examples of what they need to transition from adolescence into responsible adulthood.
MDTMT gives the participants, who would otherwise be exposed to the crime, gangs, and drugs that are prevalent in underserved communities, a safe place to meet.
It offers them the opportunity to hear a supportive and uplifting message, when they are faced with the challenges of absent fathers, increased incarceration numbers, and high education dropout rates.
MDTMT consists of a bi-weekly meeting where the members gather to have group discussions, hands-on activities, and hear from unique speakers and leaders.  There are also college visits and special educational trips, most recently wrapping up several days in New Orleans.  Each meeting serves a meal so donations are always welcome.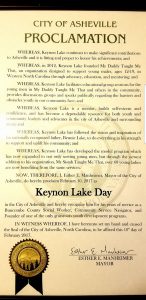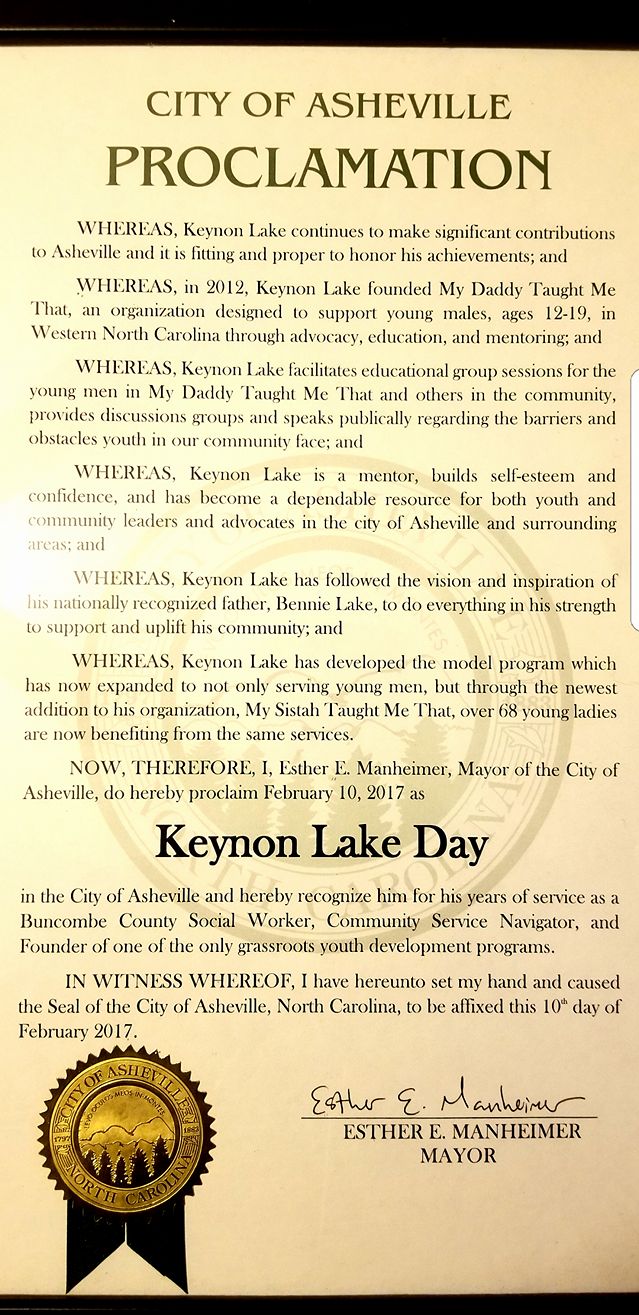 Keynon has dedicated much of his own time and money to build MDTMT into the structured and powerful force that it is today.
His work has been so effective that the City of Asheville recently declared that February 10th would always be "Keynon Lake Day" in Asheville.
Based on the success of MDTMT, a spin off group for young women has also been founded.  Leslie Council created and facilitates My Sistah Taught Me That as a way to reach out to young women who need to hear the same message.
Both programs are living examples of the wise words of Frederick Douglass:
It is easier to build strong children than to repair broken men.

–Frederick Douglass
Our friend Keynon Lake is someone who truly embodies what it means to be selfless.  He is someone who makes Asheville nonprofits great.
If you'd like to learn more just visit My Daddy Taught Me That, and you can donate HERE.
More than just mountains and beer
Whether you are just here for a vacation or considering a move, keep an eye out for these special Asheville nonprofits.
While the views, hiking, food, and craft brews are great, if you look a little deeper, the dedication and love our community possesses, is even greater.